December 4,14,28th, 2017

December 22~24th, 2017
The preliminary camps of the Tokyo Olympic Games are continuing to be decided
The countries and areas participating in the Tokyo Olympic Games 2020 preliminary camp are being determined one after another.
In December, the Bulgaria judo team and the seven-person Rugby Russian girls team were assigned to Munakata City, and 15 countries and regions of Oceania have decided to have camp in Yanagawa, Miyama, Miyako, and Chikujo-machi.
Fukuoka prefecture has become one of the leading campgrounds in the country and the top athletes of various countries and regions will come to this prefecture! The preliminary camps of the Tokyo Olympic Games are continuing to be decided.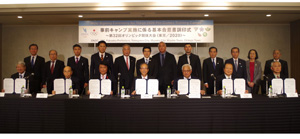 On 14th December, the Oceania Olympic Committee, the Japan Olympic Committee, the prefecture and 4 municipalities signed a basic agreement signing ceremony
Fukuoka Prefecture · China Jiangsu Province Friendship Alliance 25th Anniversary Project
In 1992, Fukuoka Prefecture signed a sisterhood pact with China and Jiangsu Province. Exchanges were established in a wide range of fields.
To celebrate the 25th anniversary of the friendship alliance, from December 21 to December 24, groups, including the governor and president of the prefecture assembly visited Jiangsu Province. On 22nd, a signing ceremony was held to further develop the relationship between the "Consultation of Fukuoka Prefecture's and Jiangsu Province." In addition, on the 23rd, the companies that entered inspection of the Jiangsu province held a friendship tea party between Jiangsu and Fukuoka in Suzhou on the 24th.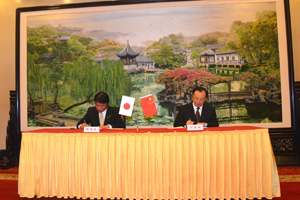 State of signature ceremony
Traditional musical instruments of both China and Japan were also played there.