November 19th, 2017

November 16th, 2017

November 11th, 2017
"Asian Beat Aki Matsuri 2017" Held in Hanoi, Vietnam
On November 19th, "Asian Beat Aki Matsuri 2017," that communicates the charm of Fukuoka, was held in Hanoi, Vietnam, which has a special friendship alliance with the prefecture.
At the venue, in addition to exchange events through youth culture such as lolita fashion show and cosplay contest, there was PR by Fukuoka's Mascot character "Ecoton," information about study abroad/ sightseeing, etc., and many people experienced Fukuoka's charm.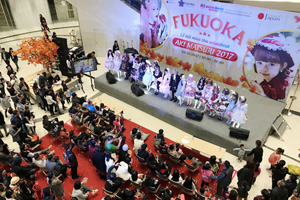 At the Venue
Industrial Sightseeing Tour of Asakura and Toho and Opinion Exchange Meeting
On November 16th, each of the consuls general located in Fukuoka (Korea, China, Australia, Vietnam), the United States head consul, and the Fukuoka Office Director of U.N. HABITAT participated in an industrial sightseeing tour and opinion exchange meeting, visiting Asakura and Toho which were damaged by heavy rain in northern Kyushu in July, 2017.
It was an opportunity to deepen understanding so that many people can visit from abroad through contact with the area's attractiveness, such as experiences decorating Toho's traditional "Koishiwarayaki" pottery, viewing Asakura's symbolic triple water wheel, fruit picking, etc., and the current state of reconstruction.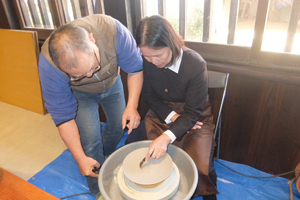 Experience Decorating Koishiwarayaki Pottery
Descendants of Emigrants from Fukuoka Prefecture Experience Japanese Culture as Exchange Students
The Fukuoka International Exchange Foundation (Public Foundation) has a program for descendants of the Overseas Fukuoka Prefecture Citizens Association (Kenjinkai) who have emigrated abroad from the prefecture. As exchange students at universities in the prefecture for 1 year, they are trained to be successors of the Kenjinkai.
On November 11th, this year's eight exchange students experienced tea ceremony and wearing kimono in order to deepen their understanding of Japanese culture.