September 20~24th, 2017

September 19th, 2017
Fukuoka Prefecture's 41st Traditional Handicrafts Exhibition' was held here!
From the 20th of September until the 24th of September, Fukuoka City hosted 'Fukuoka Prefecture's 41st Traditional Handicrafts Exhibition'. In order to be considered traditional handicrafts, objects must meet specific criteria laid down by the Minister of Economy, Trade and Industry. For example, the object must be used in everyday life, have its chief components made by hand, and have been in use for over 100 years.
7 kinds of traditional 'Fukuoka' handicrafts, making for approximately 200 items, were on display at the venue. Eyes were particuarly drawn to a novel and unconventional item – a rugby ball made of 'Hakata' cloth sporting the 'Rugby World Cup - Japan 2019' motif.
A Delegation from Lạng Sơn Province, Vietnam, Inspects the Agricultural Facilities in Fukuoka Prefecture.
On the 19th of September, a delegation representing the People's Council of Lạng Sơn Province, Vietnam, arrived in Japan. Led by the People's Council Vice-Chairman, the delegation visited Fukuoka Prefecture. Lạng Sơn Province is situated in the mountains and is home to an abundance of Japanese cedar trees. The region also produces a vast number of Japanese persimmon. Thus, the visit was a good chance for the delegation to inspect locales including timber production sites in Ukiha City, and persimmon orchards in Kurume City.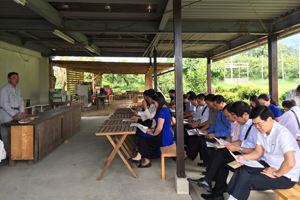 All members of the delegation listened attentively to explanations regarding timber and persimmon production.