July 9th, 2017

The sacred island of Okinoshima and associated sites in the Munakata Region,
- Designated a World Heritage Site!

July 5th, 2017 ~
The sacred island of Okinoshima and associated sites in the Munakata Region,
- Designated a World Heritage Site!
At the 41st Session of the World Heritage Committee, which was held in Kraków, Poland on the 9th of July, the sacred island of Okinoshima (and associated sites in the Munakata Region) was designated and registered as a World Heritage Site. The site itself is home to untouched relics that were once used in ancient religious rituals. During these rituals, people offered up prayers to the islands for safe sea voyages. Such voyages, and their associated rituals became commonplace in ancient East Asia with the advent of foreign exchange during the 4th-9th centuries. Okinoshima is home to the 'Munakata Taisha' a collection of 3 sacred Shinto shrines, in addition to the Shinbaru/Nuyama Ancient Burial Mound. It is here where the people who once performed the ancient rituals were laid to rest.
※ Access to the islands is strictly prohibited.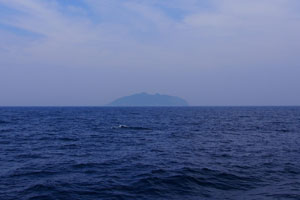 Okinoshima
July 2017: Regarding the Torrential Rains in Northern Kyūshū
Due to the record-breaking torrential rains that began on the fifth of July, the city of Asakura and the village of Tōhō (in particular the center of the village) both suffered significant and extensive damage. This damage was primarily the result of ongoing river flooding and successive landslides.
Since this natural disaster took place, volunteer drives have sprung up in the affected areas. Many people are continuing to show their support by way of monetary donations and donated goods.
Now, the sole focus of the prefecture is to help the victims return to a state of normalcy as soon as possible, with every effort being made to achieve this goal.
To this end, it is important to know that the damaged regions and their surrounding environs are areas rich in tourist destinations; tourists are strongly urged to show their support by paying a visit. Such attractions include hot springs, handicrafts, and sightseeing plantations. The area is also home to many hotels and 'ryokan' (traditional Japanese inns) that are continuing to operate in accordance with normal business days and hours. Please make your way to this prefecture and partake of its spectacular sightseeing attractions!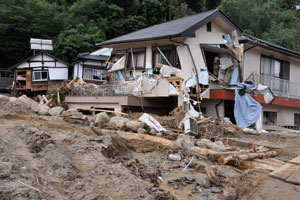 Residences Damaged by River Flooding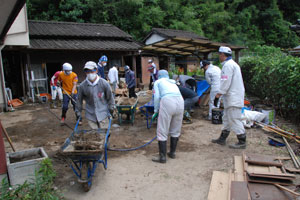 Large numbers of volunteers continue to provide aid and support.