June 10th, 2017
Presentation of Prefectural Citizen Honor Award to Nobel Prize winner Professor Ohsumi
On June 10th, a Prefectural Citizen Honor Award was presented to Professor Ohsumi of the Tokyo Institute of Technology.
Last December, Dr. Ohsumi received the Nobel Prize in Physiology or Medicine for his great contribution in explaining the mechanism of autophagy in cells.
With the achievement of the first Nobel laureate from Fukuoka Prefecture, he gives excitement and hope and the people of the prefecture are very proud of him.
Dr. Ohsumi said 'I am very delighted to receive this honor. I hope that Fukuoka will become a global city, soaring around the world. From now on, I hope I can do activities befitting this award' at the ceremony.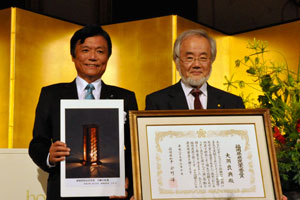 Prefectural governor Ogawa presented a commemorative gift of an "Okawa Kumiko Lampshade" together with the "Prefectural Citizen Honor Award."