April 28th, 2017

April 22th - 23th, 2017
The Kyūshū National Museum is now open at night!
Since the 28th of April, the Kyūshū National Museum has extended its opening hours until 8PM every Friday and Saturday. In addition to the museum, the 'Night Area of the Ancient City of Dazaifu' has also extended its hours of operation. This 'Night Area' consists of an illuminated road leading to 'Tenman-gu' (a Shinto Shrine).
On the 28th of April, there was an opening ceremony to celebrate the commencement of these later opening hours. It featured a short live performance by musician Sarah Àlainn and a talk from Sadaharu Oh, chairman of the Japanese professional baseball team, 'Softbank Hawks'. A lamp lighting ceremony signaled the commencement of the new opening hours. As you can see, it is possible to enjoy the Kyūshū National Museum and the city of Dazaifu during the day and at night – so please feel free to stop by and have a look around!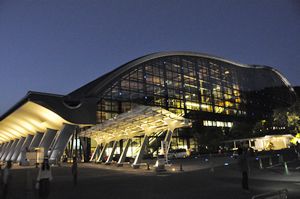 Visitors are now able to enjoy the Kyūshū National Museum at night.
HSBC World Rugby Women's Sevens Series' - An Event Hosted by the City of Kitakyūshū.
From the 22nd -23rd of April, the city of Kitakyūshū played host to the 'HSBC World Rugby Women's Sevens Series'. This event is a series of international rugby union 'sevens' tournaments ('sevens' is a variant of rugby union with only seven players) where teams compete at different global locations via a circuit system. 11 core teams compete during each tournament, while an additional team is invited to participate in certain events, making a total of 12 teams. This was Japan's first time hosting the event.
Mayor Ogawa visited the venue on both days in order to enjoy the Rugby Women's Sevens teams playing some top-level, professional rugby.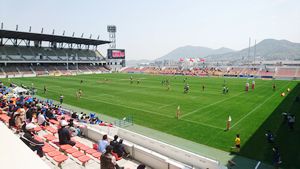 The excitement unfolds: International teams go head to head at the Rugby Women's Sevens.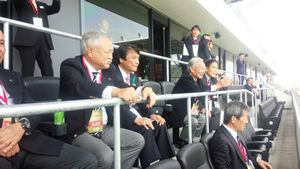 Mayor Ogawa enjoyed watching some top-level Rugby Women's Sevens matches.