December 18th, 2016

December 14th - 21st, 2016

December, 2016
Yama, Hoko, Yatai, float festivals in Japan - UNESCO Inscription Commemoration Ceremony
Now inscribed as UNESCO Intangible Cultural Heritage are Hakata Gion Yamakasa Festival and Tobata Gion Yamakasa Festival of Fukuoka Prefecture and a total of 33 Yama, Hoko, Yatai, float festivals in Japan in 18 prefectures. Celebrating this, the Inscription Commemoration Ceremony was held on December 18th at the Kyushu National Museum.
Hakata Gion Yamakasa Festival is held annually from July 1st to the 15th in Hakata Ward, Fukuoka City; while Tobata Gion Yamakasa Festival goes on for 3 days during the 4th weekend of July every year in Tobata Ward, Kitakyushu City.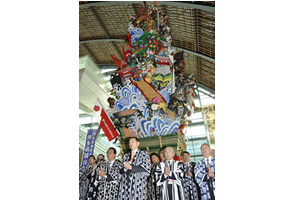 Scene at the Hakata Gion Yamakasa ceremony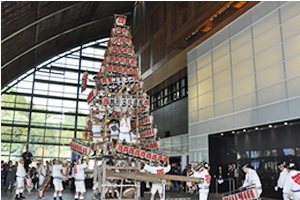 Scene at the Tobata Gion Yamakasa ceremony
Environmental study abroard by high school students from Delhi, India.
During the 8-day period from December 14th to the 21st, 10 high school students from the National Capital Territory of Delhi, India, representing the Delhi Eco Club conducted an environmental study abroad program here in Fukuoka Prefecture. The Club aims to raise India's next generation of leaders in environmental preservation efforts. The program included visits to various environmental facilities and research centers in the prefecture and seminars led by experts in ecology and environment.
The students also engaged in farming and forestry through a farm homestay program, as well as an interactive curriculum with local high school students currently studying in similar fields.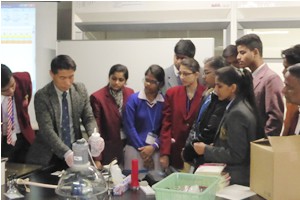 Students engaging in environmental seminar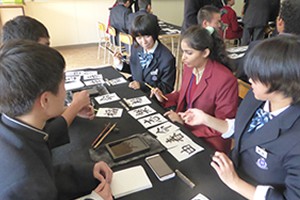 Interacting with Fukuoka local high school students
Jin Air begins flights to/from Kitakyushu.
South Korean low-cost carrier Jin Air began operating flights between Kitakyushu and Busan on December 1st and between Kitakyushu and Seoul (Incheon) on December 13th. It now offers one round-trip each, respectively.

KITAKYUSHU AIRPORT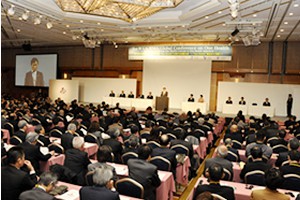 Scene at the ceremony