Environmental cooperation agreement signed with the Government of Thailand
An agreement on environmental cooperation was signed by Fukuoka Prefecture and the Government of Thailand Department of Environmental Quality Promotion on August 23rd. Upon this agreement, much needed resources including technical support for setting up waste disposal sites as well as training and further education for environmental staff will be shared between the two.
Fukuoka and the city of Bangkok have signed an environmental agreement back in 2012, as an open classroom session on environmental education took place on August 29th this year at an elementary school in the Thai capital city.
Fukuoka Prefecture continues to deepen its relationship with Thailand through various cooperative projects and activities for one another.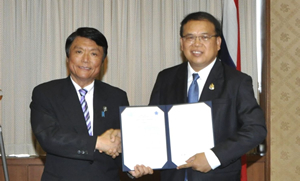 Scene from the environmental cooperation agreement signing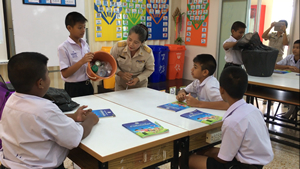 Scene from the environmental open classroom session in Bangkok