July 22nd-24th, 2016

July 16th-17th, 2016
Hawaiian Festival in Fukuoka 2016 announced
Celebrating the 35th anniversary of the sister city-relationship between Fukuoka Prefecture and the State of Hawaii, Hawaiian Festival in Fukuoka 2016 was held on July 22nd to 24th in Fukuoka City. Established in 1981, their international affiliation was the first of its kind for both cities at that time. The event successfully brought in a high volume of spectators as it featured a number of events on stages as well as various food stands and local specialty booths representing Hawaii and Fukuoka.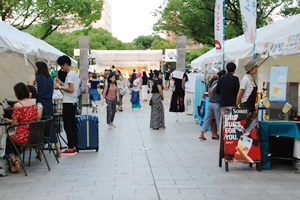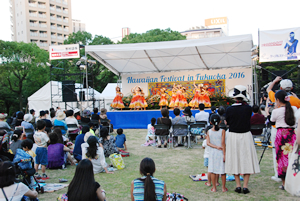 Scene at Hawaiian Festival in Fukuoka 2016
Fukuoka Fair held in Indonesia
First-ever "Fukuoka Fair" in Indonesia took place on the 16th and the 17th of July. The two-day event was well-received as it introduced various attractive features of Fukuoka, including Fukuoka's original pop cultures on main stage. They also provided food items such as "Chikugo udon" noodles and other local cuisines of the Prefecture created specifically to fit the predominantly-Muslim Indonesian consumers. A high volume of spectators crowded the venue with lots of enthusiasm as they experienced Fukuoka's various attractions at first hand.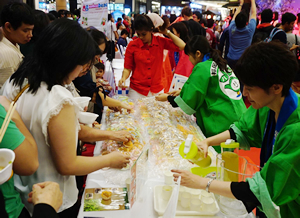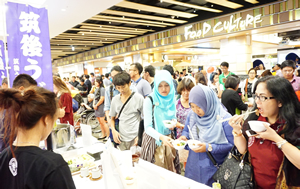 Scene at Fukuoka Fair